Posted: July 19, 2017
Scottish Rowing has announced its team to compete in the Home International Regatta (HIR), the prestigious one-day competition between four nations at Strathclyde Park, this Saturday (22nd July).
The HIR, hosted north of the border by England at the weekend, provides a rare but greatly anticipated opportunity for Scotland's rowers to compete against athletes from England, Ireland and Wales.
At the 2016 HIR in Cardiff, the Scotland Rowing Team's senior women won back the title they had last captured in 2014 whilst the men missed out on retaining its 2015 title by the slimmest of margins.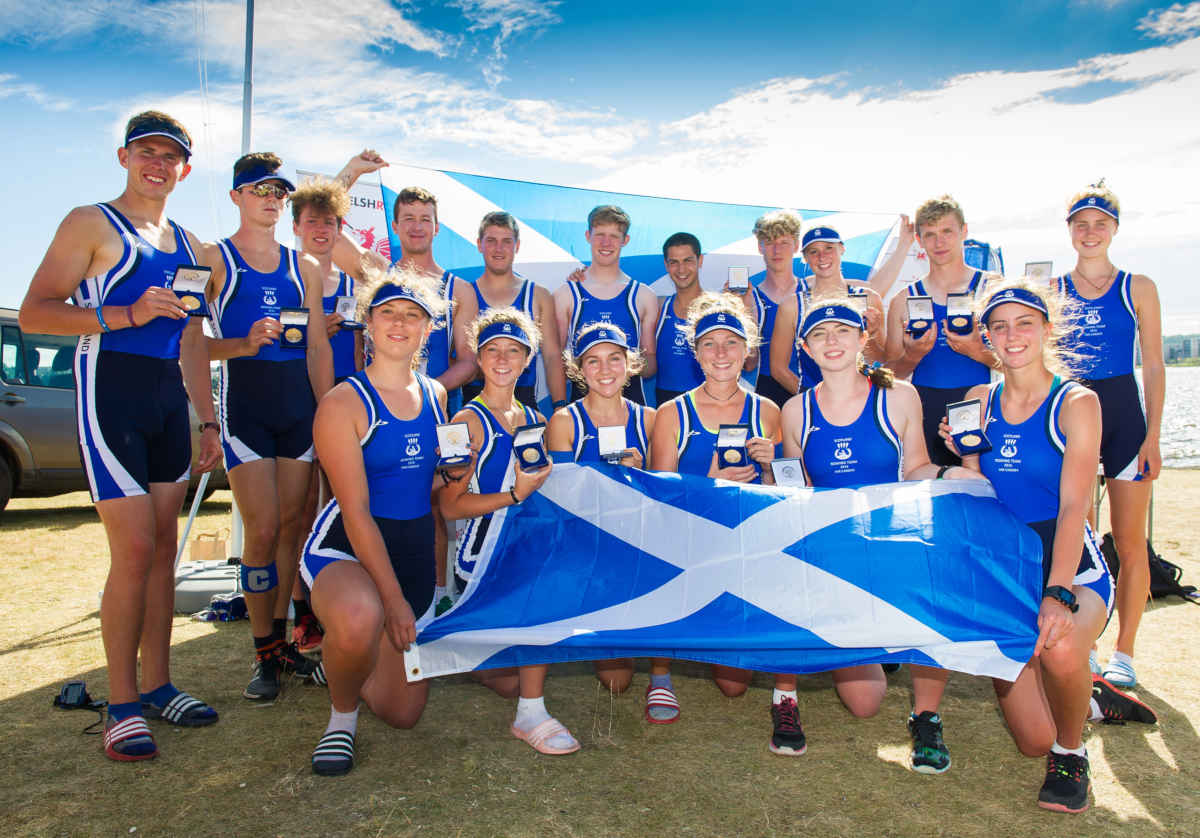 Nineteen-year-old Edinburgh University BC athlete Laura McDonald, who won two medals on her senior women's debut last year, is back racing this weekend in the role of the women's team captain. She believes her team is capable of winning again.
"We've got half of our women's eight who rowed at Henley Royal Regatta a couple of weeks ago which was the first Edinburgh Uni crew ever to do so," said McDonald who will be competing in three different boats.
"The other half is the top end of Glasgow Uni girls so we should have a strong eight. Then, once it's broken up into different parts, all our crews have different strengths."
Fresh talent moves up to the senior team this year in the form of Alex Rankin and India Somerside, who both competed for GB in the 2016 World Junior Championships, along with fellow Edinburgh student, Lydia Currie, who had a strong track record at Henley with her former school, Headington School.
"So it's looking positive this year," continued McDonald. "In Cardiff last year we got a few golds and a lot of second places which obviously made up the points. This year we should be aiming for more golds."
In Calum Irvine and his team mate Graham Ord, this year's senior men's team has two high performance athletes who have recently been through the GB trials process.
Irvine, who like fellow Edinburgh student Laura McDonald, feels "honoured" to be selected as Captain, has raced the HIR on two previous occasions and is relishing the opportunity to get back racing on the Strathclyde Park venue where he trains every week.

"This is a really good focus to end the season on and I've been looking forward to this all year," said Irvine.
"The men's team has a real good mix of athletes which has the potential to be really strong.
"Graham and I have raced together as a pair quite a bit before and there's a healthy mix of Edinburgh athletes in the team which gives us a style to follow.
"And some of the athletes in the other clubs have rowed with us before in different projects."
Gregor Maxwell for instance was a member of the St Andrew crew, along with Graham Ord, which reached the final of the Britannia Challenge Cup at the Henley Royal Regatta a fortnight ago. Newcastle University's James Robson is in top form having won the Prince Albert Challenge Cup at Henley and been part of the British team competing at the European University Championships.
Heriot Watt University BC's Mark Telford and Sarah Baillie will be racing in the two para events, which for the second year in succession will count towards the senior teams' points.
In the wider team, for half of this year's Scotland Rowing Team coaches will be in their roles for the first time this weekend, providing them with a perfect opportunity to learn and develop.
"This team feels a little bit stronger than last year's where we came in with cautious optimism and exceeded our expectations," said Scotland Rowing Team Manager, Graeme Cunningham, who believes the rigorous selection process promotes both performance rowing in Scottish clubs and raises the standard of the Scottish Rowing Championships, the main selection regatta.
"It has been a huge plus for the championships for people to know if they want to be in the Scotland Rowing Team then they have to compete.
"Strathclyde Park is definitely our own water where all the athletes have raced many times.
"That has got to be an advantage and it's making sure the athletes make the most of that.
Racing begins at Strathclyde Park at 10:30 on Saturday 22nd July.
The full schedule of 36 races can be found at: http://www.homeinternationalregatta.org/rules/default.html
For more information on the Home International Regatta, please visit: www.homeinternationalregatta.org
The Scotland Rowing team for the 2017 Home International Regatta (22nd July)
Senior Men
AS 1x
Mark Telford Heriot Watt University BC
1x
Matthew Christie Edinburgh University BC
2x
Matthew Mole Glasgow University BC
Ben Parsonage Strathclyde University BC
Lwt 1x
Gregor Maxwell St Andrew BC

Lwt 2x
James Stevenson Newcastle University BC
Gregor Maxwell St Andrew BC

Lwt 2-
No Crew

2-
Graham Ord St Andrew BC
Calum Irvine Edinburgh University BC
4-
Graham Ord St Andrew BC
Calum Irvine Edinburgh University BC
James Robson Newcastle University BC
Matthew Christie Edinburgh University BC
4+
Michael May Heriot Watt University BC
Calum Young Strathclyde University BC
Aaron Nicholson Glasgow University BC
Morgan Serpell Glasgow University BC
Helena Watson(Cox) St Andrew BC

8+
Graham Ord St Andrew BC
Calum Irvine Edinburgh University BC
James Robson Newcastle University BC
Matthew Christie Edinburgh University BC
Michael May Heriot Watt University BC
Calum Young Strathclyde University BC
Aaron Nicholson Glasgow University BC
Morgan Serpell Glasgow University BC
Helena Watson(Cox) St Andrew BC

4x
Matthew Mole Glasgow University BC
Ben Parsonage Strathclyde University BC
James Stevenson Newcastle University BC
Gregor Maxwell St Andrew BC

Senior Women
AS 1x
Sarah Baillie Heriot Watt University BC

1x
Alex Rankin Edinburgh University BC

2x
Lydia Currie Edinburgh University BC
Mairi Buchan Edinburgh University BC

4x
Alex Rankin Edinburgh University BC
Lydia Currie Edinburgh University BC
Mairi Buchan Edinburgh University BC
Laura McDonald Edinburgh University BC

Lwt 1x
Laura McDonald Edinburgh University BC

Lwt 2x
Katy McDonald Durham University BC
Laura McDonald Edinburgh University BC
Lwt 2-
Sophie Parsons Edinburgh University BC
Hannah Havelock-Allan Edinburgh University BC

2-
Lauren Gray Edinburgh University BC
India Somerside Edinburgh University BC

4-
Lauren Gray Edinburgh University BC
India Somerside Edinburgh University BC
Jenny Stevenson Edinburgh University BC
Flora Blake Parsons Edinburgh University BC

4+
Katie Mackie Glasgow University BC
Rachel Cannon Glasgow University BC
Rosanna Loy Glasgow University BC
Ellen Smith Glasgow University BC
Rachael Scott (Cox) Glasgow University BC

8+
Lauren Gray Edinburgh University BC
India Somerside Edinburgh University BC
Jenny Stevenson Edinburgh University BC
Flora Blake Parsons Edinburgh University BC
Katie Mackie Glasgow University BC
Rachel Cannon Glasgow University BC
Rosanna Loy Glasgow University BC
Ellen Smith Glasgow University BC
Rachael Scott (Cox) Glasgow University BC
Junior Men
1x
Dale Flockhart St Andrew BC
2x
Alexander Milne Glasgow Academy
Ru Smith Glasgow Academy
4x
Dale Flockhart St Andrew BC
Alexander Milne Glasgow Academy
Ru Smith Glasgow Academy
Alex Chisholm St Andrews University BC
2-
Frank Murray Edinburgh University BC
Sam Abernathy Heriot Watt University BC
4-
Fergus Mainland George Watson's College BC
Euan Dickerson George Watson's College BC
John Laurenson George Heriot's School RC
Rory Young George Heriot's School RC
4+
Conrad Forbes Aberdeen Schools RA
Theo Stott Aberdeen Schools RA
Aidan Graham Aberdeen Schools RA
Seth Turner Aberdeen Schools RA
Emily Murdoch(Cox) Aberdeen Schools RA

8+
Michael Troy Strathclyde Park RC
Andrew Dunse Strathclyde Park RC
Frank Murray Edinburgh University BC
Sam Abernathy Heriot Watt University BC
John Laurenson George Heriot's School RC
Rory Young George Heriot's School RC
Conrad Forbes Aberdeen Schools RA
Theo Stott Aberdeen Schools RA
Hannah Watson(Cox) George Watson's College BC
Junior Women
1x
Rosie Payne Strathclyde Park RC
2x
Elspeth Grant Strathclyde Park RC
Anna Buchanan George Watson's College BC
4x
Rosie Payne Strathclyde Park RC
Elspeth Grant Strathclyde Park RC
Anna Buchanan George Watson's College BC
Katrina Bryce Castle Semple RC
2-
Megan Hewison Aberdeen Schools RA
Abigail Topp Aberdeen Schools RA
4+
Jennifer Olney Glasgow Academy
Holly Wicklow Glasgow Academy
Louise Miller Glasgow Schools RC
Holly Allan Glasgow Academy
Ella Bryant(Cox) Glasgow Schools

4-
Ellen Brignall St Andrew BC
Robyn Patton St Andrew BC
Emma Pearson St Andrew BC
Hannah Davis St Andrew BC

8+
Jennifer Olney Glasgow Academy
Holly Wicklow Glasgow Academy
Megan Hewison Aberdeen Schools RA
Abigail Topp Aberdeen Schools RA
Emma Pearson St Andrew BC
Hannah Davis St Andrew BC
Eve Kitcher Glasgow Schools RC
Anna Colley Glasgow Schools RC
Tilly Bradley-Bevan(Cox) St Andrew BC
Coaching team
Senior Women's Team Lead Coach - Matt Evans (Edinburgh University BC)
Senior Men's Team Lead Coach - Tom Young (GB Rowing Team – Start)
Senior Team Coaches - Meghan Hunter (Edinburgh University BC), Fraser Quinn (Glasgow University BC)
Para Rowing Coach - John Blair (Scottish Rowing)
Junior Team Coaches - Alistair Browne (Strathclyde Park RC), Tom Duke (St Andrew BC), Lindsay Flockhart (St Andrew BC), Liz Harries (George Watson's College BC), Jonny Muir (Aberdeen Schools RA)