Posted: 7 September, 2018
Former GB rower, Lewis McCue, has been rewarded for his success leading the emerging University Rowing Aberdeen (URA) programme after being appointed its full-time head coach.
It was just over a year ago that McCue was selected in a part-time role to coach rowers from URA, a collaborative initiative of the Robert Gordon University Boat Club and Aberdeen University Boat Club.
After recognising the significant progress that has been made under McCue's leadership, the two universities have combined with Scottish Rowing to build on the fund-raising work done by the two student-led boat clubs to secure his future in the North East.
At this summer's Home International Regatta in Cork the URA programme enjoyed the highest representation on the Scotland Rowing Team of any one programme with seven athletes and two coaches selected.
As the senior men's coach in Ireland, Lewis's team missed out on the senior men's title by just one point.
"It was my first experience at the Home Internationals as a coach and for me it was the highlight of the year," said Lewis, one of only two full-time professional coaches now working within university sport in Aberdeen.
"I enjoyed seeing how proud and happy all of the athletes were to be racing and liked the challenge of working with different athletes as well as some of my own.
"And two of the athletes, a male from Robert Gordon University and a female from the University of Aberdeen, only started rowing with us as complete beginners nine months ago.
"We wouldn't have had this success without all the things that we have been working on throughout the year."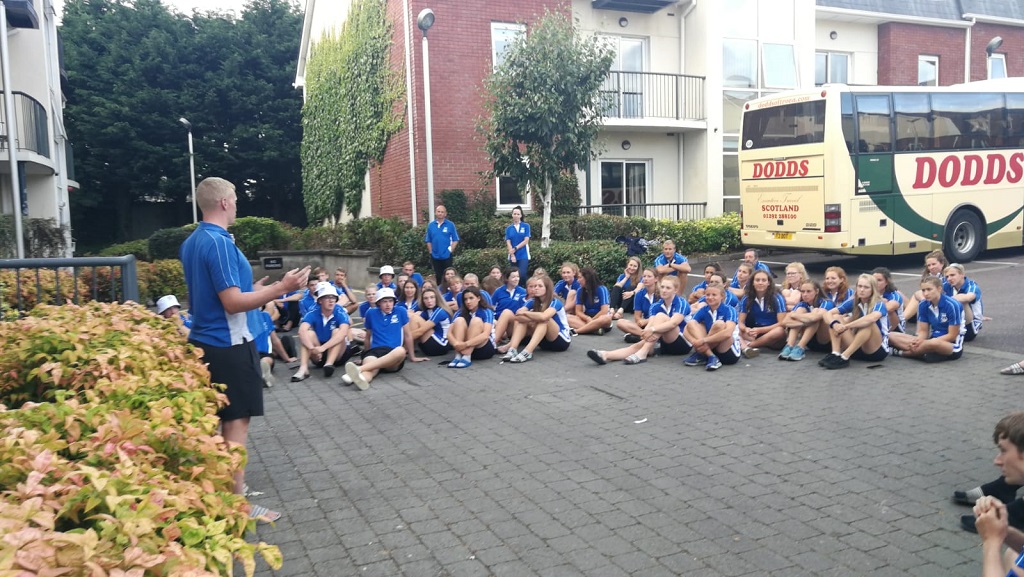 Following a hugely successful rowing career the two-time world under 23 silver medallist has made a surprisingly smooth transition to coaching. But ironically part of his success has come from resisting the natural urge to spend all his time coaching in favour of getting the right structures in place.
"I know it sounds unexciting but structure is what has made the really big impact and made it possible for all those athletes to go and represent Scotland," explains McCue.
"Not only have I had support from a lot of people working very hard within URA and the two student clubs, but both universities have helped to develop plans to ensure we are following a structure and I'm grateful for the support from both Fraser at Aberdeen and Hannah at RGU.
"Now we've got development plans for our alumni engagement, for our boat fleet, for our support services and our coaching team.
"We make sure that everything fits into the overall programme with a focus on the athletes, not just those we currently have but also those we are hoping to have in the future."
It says much for the proactive recruitment strategy that 85 percent of URA's current competition squad had never rowed before joining the club.
Looking forward to the new season club numbers are set to rise dramatically, with the female section expected to be double the size of a year ago.
"For me it's been really great to work with beginner athletes, people that are just coming into the sport and being able to take them from their first strokes to racing at international level," said Lewis, before explaining the club ethos.
"Everything we are doing is about making you reach your potential. It's not about beating someone else, it's about making sure all the things you are doing are towards making yourself better as an individual.
"That's our philosophy and it's definitely working."
Hannah Leslie, Head of Sport at RGU said: "It is so refreshing to see Lewis, RGU Alumni and ex-student athlete, working hard to develop the next generation of performance rowers at both Universities.
"As an athlete Lewis showed real commitment and dedication to his training and is already showing the same dedication in his role as Head Coach of the URA programme. Lewis is a great role model for student athletes and his approach to improving the programme will inspire many.
"We are delighted to be working in partnership with Scottish Rowing and University of Aberdeen to support Lewis and both university boat clubs to improve rowing in the North East."
Fraser Lovie, Policy Adviser and Acting Head of Sport at University of Aberdeen, said: "Student rowers from the two universities have taken a lead in this collaborative initiative and we are delighted to be able to reinforce that in partnership with Scottish Rowing and RGU to help nurture student rowing talent in the region.
"In a relatively short time Lewis has already made a significant contribution to the development of rowing talent at both universities. We look forward to further success as this exciting collaborative approach continues to evolve."
Lee Boucher, Scottish Rowing's Head of Performance Pathway, said: "Scottish Rowing is delighted to be working in partnership with the University of Aberdeen and Robert Gordon University to support the University Rowing Aberdeen programme.
"Quality coaching underpins the success of any programme and Lewis in a relatively short space of time has already demonstrated his potential as not only a great coach but an excellent leader. We look forward to continuing to work with Lewis and the URA programme over the months and years ahead to further develop opportunities for talented student athletes in Aberdeen."